Updated by Satish Shetty
What is an eSIM?
An iPhone eSIM is a software based virtual SIM card that is built into certain models of the iPhone, such as the iPhone XS, XS Max, XR, 11, 11 Pro, 11 Pro Max, 12, 12 mini, 12 Pro, 12 Pro Max, SE (2nd generation), and later. It allows users to activate a mobile plan without the need for a physical SIM card. Instead of inserting a SIM card, users can activate their eSIM by scanning a QR code provided by their mobile network operator, or by downloading a mobile plan from their carrier's website. With eSIM, users can have multiple plans on their device, such as one for personal use and another for business use, and they can easily switch between them. It should be noted that not all carriers support eSIM and it may not be available in all countries.
MDM support
iOS does support eSIM installations and management through MDM. MDM administrators can remotely configure the device to point to an eSIM server (SM-DP+) which enables the device to download and install the eSIM and activate it. This allows IT admins to easily manage and provide cellular services to their employees without the need for physical SIM cards. However, it should be noted that not all mobile network operators support eSIM and it may not be available in all countries. It also requires an iOS version that supports eSIM as well as a device that has the feature built in.
Preventing eSIM modifications:
To prevent users from adding or removing eSIMs, the MDM Administrator can enable the eSIM Modification restriction AllowESIMModification. With this restriction policy in place,
MDM administrators can still use the Refresh Cellular Plans command to install eSIMs on the device.
Users will see a notification in the settings indicating that a "Cellular Plan is Ready to be Installed" which is distributed by the carrier using the Apple Lookup Service (ALS), but due to the restriction they will not be able to install it.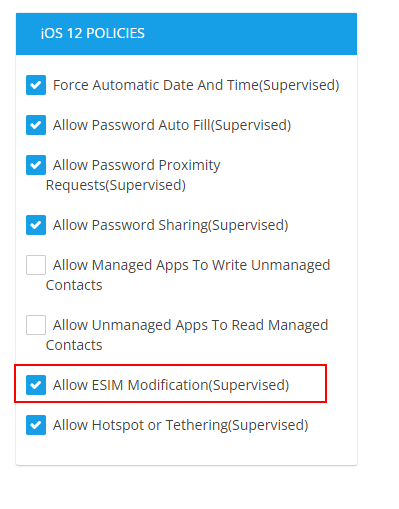 Retaining eSIM during Factory Reset:
When performing a factory reset using Codeproof MDM, the eSIM data will not be removed, meaning that the eSIM activation will remain functional even after the factory reset is completed. This ensures that the eSIM remains active and usable after the device has been reset to its original factory settings.
Note: More information about eSIM can be found here.