Android Zero-touch Enrollment
Android Zero-touch Enrollment
Updated by Satish Shetty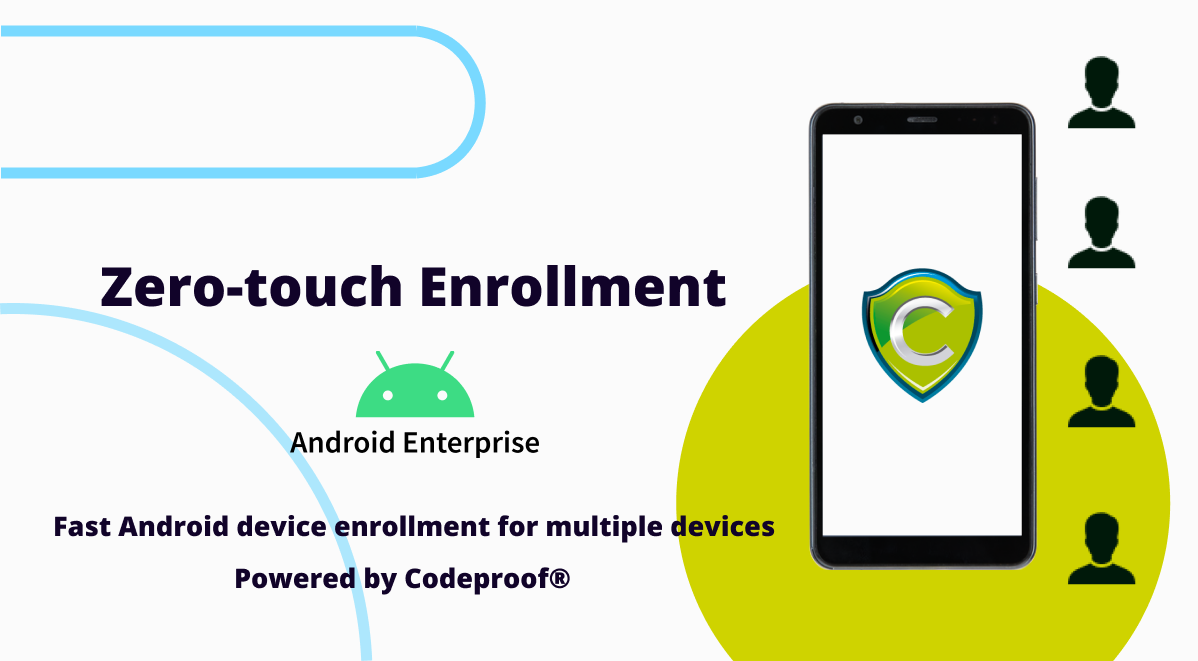 The Codeproof EMM platform fully supports Android Zero-touch enrollment. The zero-touch provisioning is available on Android 8.0+ devices from a selected manufacturers & carriers.
Following are the high level steps:
Purchase the device from the Zero-touch supported telephone carriers.
Assign devices to specific EMM in the partner portal here.
Setup MDM policies and approve apps in the Codeproof Admin Console here.
Turn on the devices, The apps and policies will be loaded automatically.
NOTE: The Zero-touch portal is used by carriers(resellers) only and customersmust work with a reseller first to purchase and assign devices.
Zero-touch Enrollment Steps:
Follow the below steps to configure zero-touch portal through carriers/resellers.
Step 1: Adding Configurations
To start, you'll need to go to customer account where the devices are assigned. You will then want to click the section on the left side for Configurations. From there, you can hit the+ to add a configuration. The pop-up will look something like this: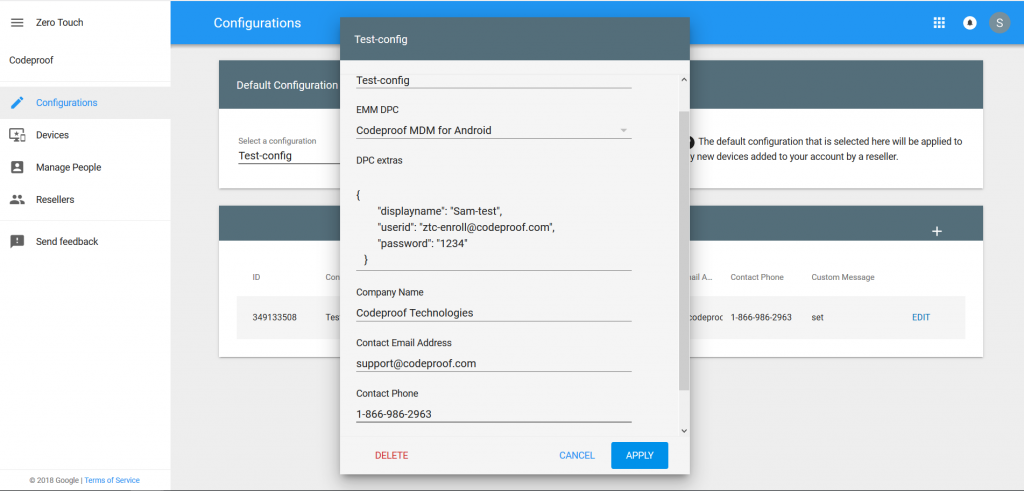 Step 2: Adding/importing Devices
You'll need to select Codeproof MDM for Android. You can set your DPC Extras as JSON here as well. The last few fields act as guidance to help the end user set up their device but for testing you can pretty much put whatever you want there.
You can set this configuration as the default configuration on this screen as well. I recommend doing this if you'd like all your devices to have the same configuration. You can do this by selecting the configuration you created from the dropdown under Default Configuration.
For devices uploaded prior to setting a default configuration, you will need to set this on each device in order for them to be provisioned with your DPC managing the device. Go toDevices on the left hand side. You will then need to select the configuration that you just created from the drop-down next to the IMEI of the device that you're testing with. It should look something like this: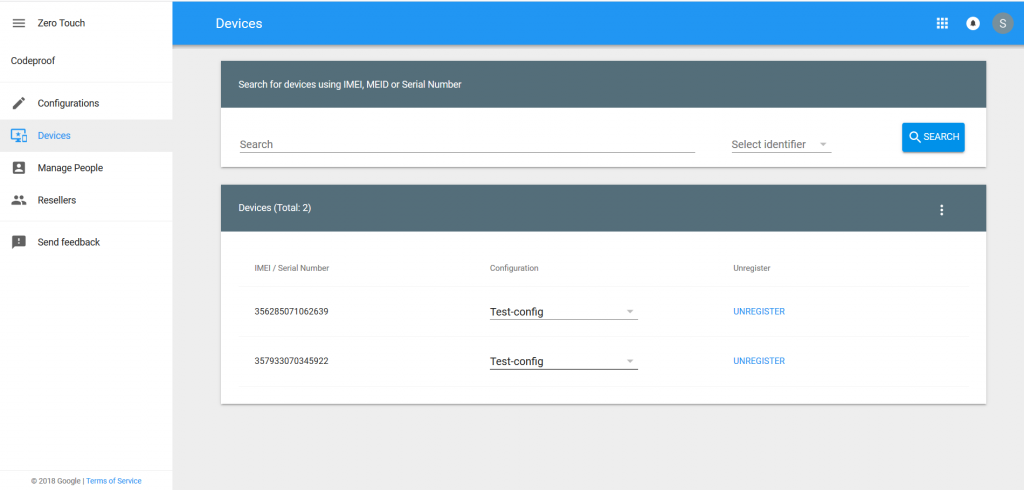 Step 3 : Factory reset the device
After that, factory resetting your device should have it zero touch enroll with Codeproof as its DPC.
DPC Extras
Codeproof EMM Agent currently consume following enrollment payload:
{   
    "android.app.extra.PROVISIONING_LEAVE_ALL_SYSTEM_APPS_ENABLED":false,
    "android.app.extra.PROVISIONING_ADMIN_EXTRAS_BUNDLE": {
        "enrollment-userid": "enroll@codeproof.com",
        "enrollment-password": "enroll2020",
        "enrollment-group": "Android Devices",
        "enrollment-type": "AZT"
   }
}