Secure Browser and Web Content Filtering
Secure Browser and Web Content Filtering
Updated by Satish Shetty
Codeproof Mobile Device Management (MDM) platform now allows administrator to remotely allow/block certain websites based on url and keywords. Codeproof solution offers a free browser app integrated with Codeproof MDM platform. Using Codeproof admin console, Administrator can remotely define a whitelist or blacklist of websites. In order to increase mobile security, Admin can block websites based on keywords in the page contents including blocking of malicious websites. With Codeproof browser app, there won't be need for any other browser apps in the device. Device user must use Codeproof browser app to get full security. Administrator can disable other browser apps in the device and let users to use Codeproof browser app. One way to achieve this is by using Codeproof App Manager. Using Codeproof App manager app admin can block all the default apps in the device and let user run selected apps including "codeproof browser app". For more info about application whitelisting using codeproof app manager can be found here.
He are the steps to setup secure internet browsing on Samsung and other android devices:
1. If you don't have an Codeproof account, Sign-up here.
2. Install Codeproof MDM app on samsung and other android phones and tables from Google Playstore.
(a) For Samsung, install link is here.
(b) Rest of the android devices, install link is here.
3. Open Codeproof MDM App and enroll the device to Codeproof. In case of Samsung, You must accept KNOX end user license agreement (one time).
4. Install Codeproof browser app from Google playstore here
5. Login to Admin Console here.
6. Go to Mobile Policy Manager from top menu.
7. Select a group of devices or a single device. On right side, go to "Andriod Security" then go to "Secure Browsing" tab.
8. Input the list of allowed websites, blocked websites..etc and hit "Save". See below.
Admin Panel: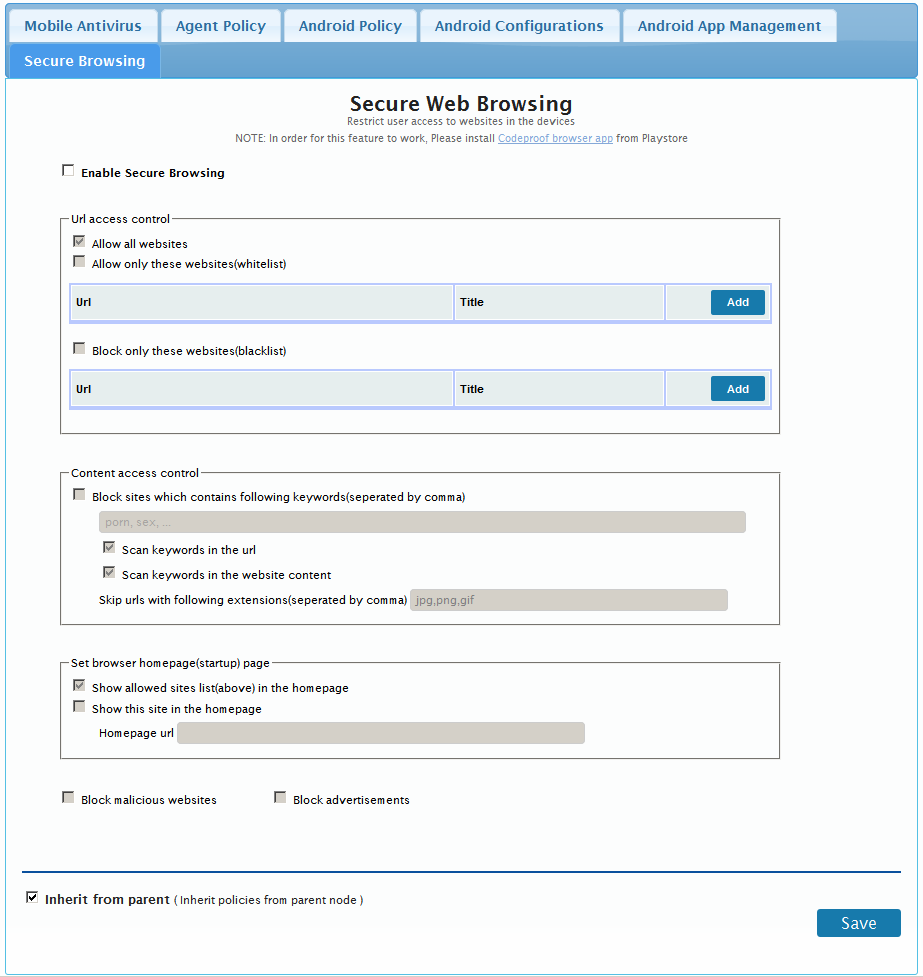 Web shortcuts
Admin can select to show a list of "Allowed sites" in browser homepage (start page). These sites will become web shortcuts for end user to access, so that end users don't have to type the long url. The other option is to set the browser homepage to a particular page. See below.

Browser App screens: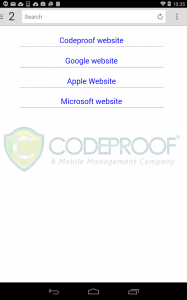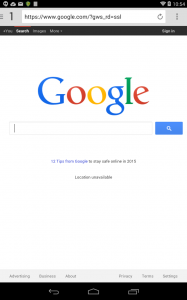 Url contains blocked keywords: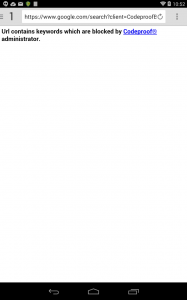 Site is blocked by Administrator: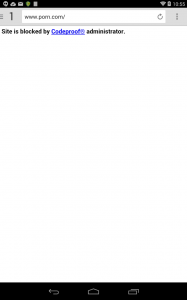 Advertisement website is blocked by Administrator: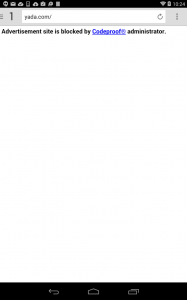 KEYWORDS: Mobile Security, Mobile Device Management (MDM), Secured Browser, Blocking malicious websites, block advertisement sites, url blocking, Website content blocking, website whitelist / blacklist, Application whitelisting, Kiosk browser.