How to enforce group level BYOD policies?
How to enforce group level BYOD policies?
Updated by Satish Shetty
Central mobile policy management never been easier. Codeproof Administrators can now set policies at the group level, and all the mobile devices in the group will download these policies instantly. Administrator can also right click on device tree and create custom groups and sub-groups. Then drag-and-drop device node from default group "iOS devices" to newly created custom group. Policies in the device node will be carried along with device-node to the new group.
Here is an example:
Step-1: Login to Codeproof console here. [If you don't have a Codeproof account, Please signup here and enroll all your mobile devices by installing Codeproof App from appstore.]
Step-2: In the Console Dashboard, Go to "Mobile Policy Manager" from top menu.
Step-3: Using the left-side tree, Select a group of devices and enforce group level policies.
In the below example, We've selected "Bring Your Own Device (BYOD)" group and we are enforcing WiFi policies. After entering WiFi configurations info, hit "Save" button that's it. All the devices in this group will receive these policies or settings. You can also select HOME node and set company-wide policies.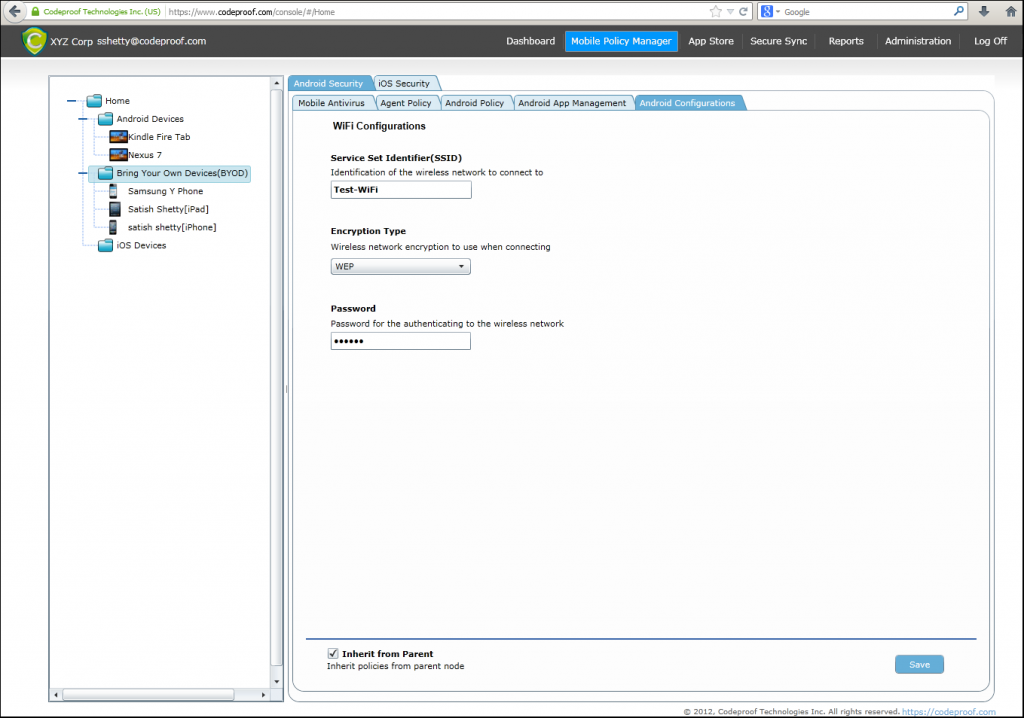 Group level directory based mobile policy management makes it lot easier for Administrator to manage large number of devices in a enterprise. central mobile policy management greatly enhances mobile security in your enterprise.
NOTE: Android devices needs to have GMAIL account setup in order Codeproof Push notifications to work (for automatic policy updates).