iPhone, iPad and iPod Touch Parental Controls in Codeproof
iPhone, iPad and iPod Touch Parental Controls in Codeproof
Updated by Satish Shetty
Codeproof provides web-based parental controls to iPhone, iPad and iPod Touch devices. Using Codeproof, parents can restrict iTunes content access to Kids such as Apps, TV shows, movies including music purchases and podcasts.
Setting-up Codeproof on your iPhone/iPad/iTouch devices are really simple. Just follow these steps.
Create an account at https://codeproof.com
Install Codeproof App on all your iPhone/iPad/iPod devices from Appstore
Open "Codeproof app" and activate it by logging-in with your Codeproof account(use single account, so that all iPhone, iPad and iTouch devices will appear in one account)
Now you can remotely manage your iPhone/iPad/iTouch devices by logging into web Console
In the Console, go to Mobile Policy Manage from top menu.
Expand the tree on left-side and select "iOS Devices" group.
Now on right-side panel, select "iOS Security" tab and then select "iOS Group Policy" sub tab
In the "Media and Content restrictions" box and set the parental control policies.You can restrict Apps, TV Shows and Movies. You can also restrict music purchases and podcasts.(a). Un-check the "allow explicit music & podcasts" setting. (Songs with explicit content carry a red EXPLICIT label in the title)
(b). Select Moviesfrom the list. Select the rating you would like to allow.(c). Select TV Showsfrom the list. Select the rating you would like to allow.(d). Select Appsfrom the list. Select age-based filtering for apps you would like to allow.After setting the controls, hit "Save" button. Settings will be enforced immediately.Please see below.
You can also completely hide APP Store from iPhone/iPad/iTouch devices using below settings.simply un-check "Allow me to install apps" setting and hit "Save" button.See below.

Here is Apple App rating descriptions based on the Age limit.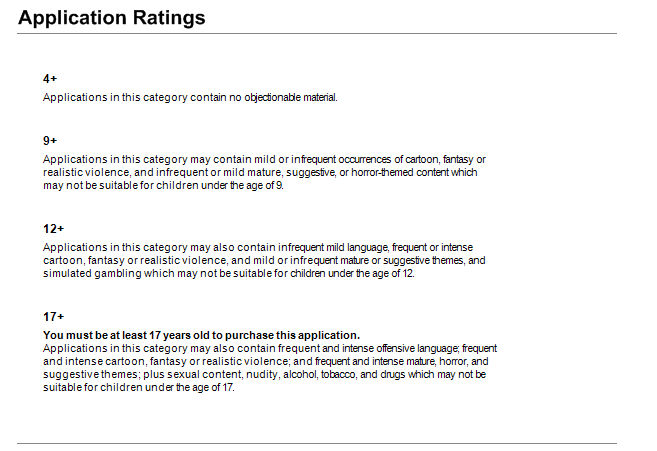 Using Codeproof, you are not only protect Kids from inappropriate contents but also protect your iPhone & iPads, such as locating your missing phone, remotely wiping your phone (to remove contacts, documents and email) when it lost or stolen, enabling password/encryption, enabling mobile policies, and much more.
For questions/feedback, email us at support (at)codeproof .com
Here is a Console Video walk-through:
For more how-to Videos click here