How to unlock iPhone, iPad and iPod touch devices?
How to unlock iPhone, iPad and iPod touch devices?
Updated by Satish Shetty
When iPhone or iPad user forgot their screen lock passcode, the MDM Administrator can still remotely unlock the device using MDM. Using Codeproof Cloud Console, the administrator can remotely remove iPhone's pass code and unlock it. The Codeproof removes previously used passcode from the device. In order this to work, the device must have Codeproof MDM has been setup previously.
Steps:
1: Login to Codeproof console here . [If you don't have a Codeproof account, Please signup here and enroll all your mobile devices by installing Codeproof App from appstore.]
2: In the Console Dashboard, Go to "Mobile Policy Manager" from top menu.
3: Using the left-side tree, Select your iPhone, iPad or iPod touch device.
4: Go to "Command Center" tab on right side panel.
5: Select "Unlock Now" command and click on "Send Command to Device" button. Your iPhone, iPad, or iPod Touch device will be unlocked immediately. See below picture.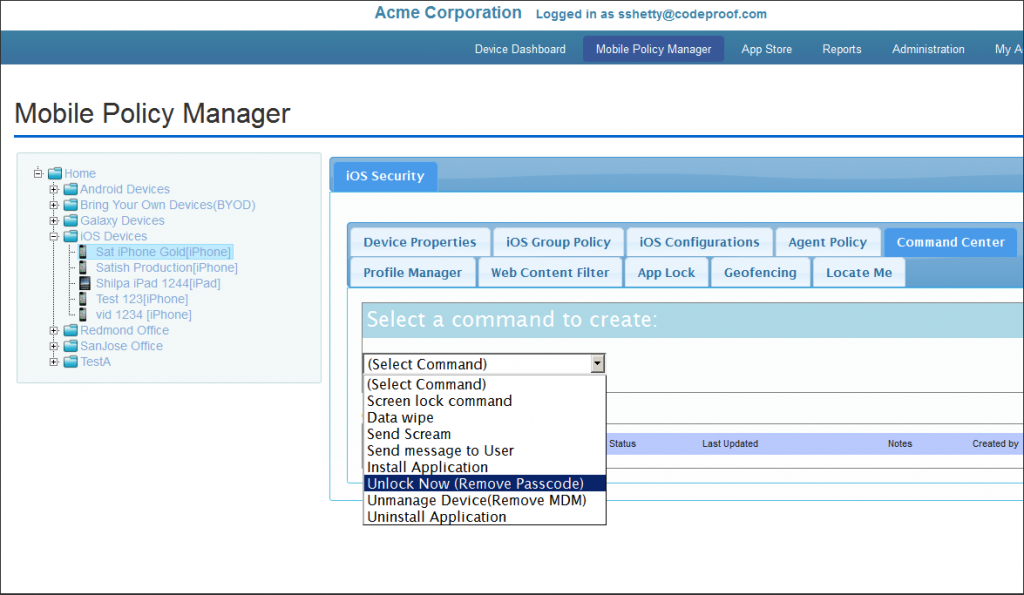 Protect your iPhone, iPad and Android devices using Codeproof .
Questions/comments, ask our 24/7 customer support at support@Codeproof.com